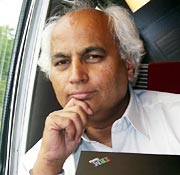 Sudheendra Kulkarni (Pic: Tapas Kulkarni from the book jacket)
It is rare that you meet and get to know someone and then never meet that person again. At any rate, that has been the case with me. It is as if one meets a person only if one is going to meet them again.
I have no scientific basis to say this and perhaps it is an example of sophistry but one likes to think that there are no chance meetings in life. Even as I say this I reject it but you would grant that as speculation goes this one is not too bad.
While in Mumbai to chronicle a conference on global transformation, I ran into an old friend from the world of journalism in the 1980s who is now a reasonably high-profile political activist. Sudheendra Kulkarni is an influential member of India's main opposition Bharatiya Janata Party (BJP) as well as a former advisor to Prime Minister Atal Bihari Vajpayee. People in India may know him from his regular appearances as a TV pundit and a newspaper columnist.
An alumnus of the Indian Institute of Technology (IIT), Bombay, Sudheendra is an odd presence in politics. He dwells in a political space where you least expect him to be and yet he has emerged as a cogent proponent of the rightwing BJP worldview. Interestingly though, in his telling it is hard to discern the discommoding angularities of that philosophy. For my own amusement I call him a closet Marxist-liberal whose door is wide open. He used to be a communist who says his transformation into his current avatar was caused by Gandhi.
Sudheendra and I renewed our contact after nearly two decades. He smiled assertively as he entered the conference room and saw me. An effusive shaking of hands and half executed side hug and we were back to our old familiarity. After this, that and the other, I found out that he is about to release his tome 'Music of the Spinning Wheel—Mahatma Gandhi's Manifesto for the Internet Age' (Amaryllis, 2012). At the end of the first day of the conference Sudheendra had produced about a dozen copies of his book for the attendees, including me.
I will write a separate piece and interview with Sudheendra later but I thought it might be a good idea to quickly introduce the book to a wider audience. Implicit in that sentence is the claim that this blog represents that wider audience.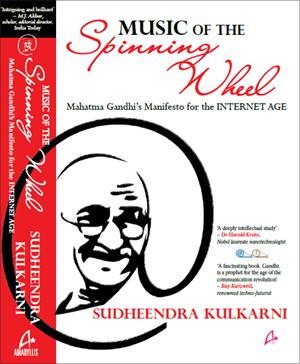 The broad theme of Sudheendra's book is probably summed up by this observation early in the book: "In the course of my study, I discovered to my own amazement that the future world shaped by digital technologies could well validate and actualise the fundamental philosophy of the spinning wheel." The spinning wheel, for those who may not be aware of such things, came to symbolize Gandhi's political belief system built around the more practical and simpler nature of industrialization.
Sudheendra's seems to be an intriguing premise and a cursory glance through the book's pages indicate some measure of scholarship. This is all I am going to say about a book I began leafing through barely half an hour ago. More on this later.
In the mean time, let me see who else I run into in the town where I cut my teeth as a journalist in 1981. It is ironic that despite all the properly planned personal meetings in Mumbai using my Facebook network, the first friend I run into was so serendipitous.