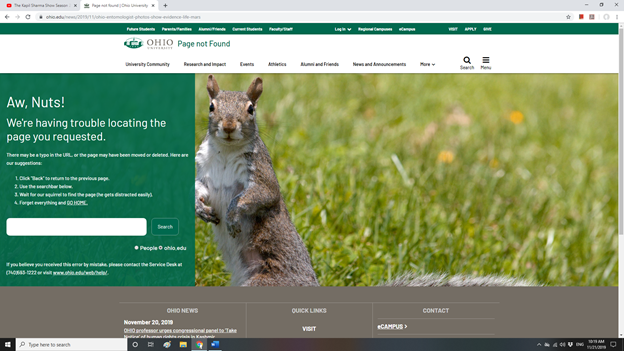 Life on Mars is somewhat akin to crying wolf. It has been conjectured and/or announced so many times that when we finally do find it, the world might just go "meh." Of course, finding life on Mars or anywhere, even if it is just microbial, would be profoundly altering and upending of human certitudes.
So when Dr. William Romoser, professor emeritus and an entomologist at Ohio University, definitively said yesterday that "There has been and still is life on Mars," it was extraordinary to say the least. In a statement published on the university's website but subsequently withdrawn Prof. Romoser was quoted as saying,  "There is apparent diversity among the Martian insect-like fauna which display many features similar to Terran insects that are interpreted as advanced groups — for example, the presence of wings, wing flexion, agile gliding/flight, and variously structured leg elements."
The claim was definitive and specific with illustrations of actual photographs as incidentally captured by NASA's Curiosity rover. He presented his findings on November 19 at the national meeting of the Entomological Society of America. The images, in his judgment, show life forms similar to reptiles and insects. What was remarkable about the findings was that the life that he talked about was both fossilized as well currently living.
Even by the assertions of the existence of life on Mars, this was right up there among the top claims. Like many others I too was stirred up by the announcement. I called Dr. Romoser's office and left a voice mail in order to do a news story. Earlier yesterday I did see the official statement on Ohio University's website but after I made the call and wanted to revisit it, the page had been removed. I tweeted at 10.22 a.m. yesterday this to the university, "@ohiou, Has the page announcing Entomologist William Romoser's claim that there is insect life on Mars been retracted? I am a journalist in Chicago trying to find it. It was there earlier this morning. But now that URL gives this."
I also posted a screenshot that shows a squirrel that said far too cutely, if unintentionally ironically, "Aw. Nuts! We are having trouble locating the page you requested.'
At 11.30, somewhat restless at not hearing back from the university, I tweeted this: "I don't know if it means squirrels and not insects were found. I do not wish to be facetious but I do need a response for a news story. With a degree in physics I understand very well that claims can go wrong. That's why it is science and not religion."
It was a couple of hours later that I received an email from a university spokesman saying this, "Mr. Chhaya, I saw your tweet to our University account regarding Dr. Romoser's research. The story has been removed as the faculty member no longer wishes to engage with media regarding this research."
Although that ended that particular exchange for me, I remain intrigued by it. Is it that Dr. Romoser does not wish to "engage with media" because the engagement is not serious enough? Or, is it that there is a deeper issue as to the claim itself? I do not know the answer to that.
As I mentioned in my tweet, claims can go wrong in science. There is nothing to be embarrassed about it. Even the redoubtable Albert Einstein had wrongly abandoned the cosmological constant to explain a stationary universe. My point is in science rights and wrongs are not to be confused with rights and wrongs in life generally.
I don't know if there will be any more discussion on Dr. Romoser's claim but it is not altogether inconceivable that they may turn out to be right, at least partially so. However, as of now they appear to have been withdrawn from the university's site.
Alana Johnson, NASA's Public Affairs Officer, was quoted by FOX News as saying, "The collective general opinion of the large majority of the scientific community is that current conditions on the surface of Mars are not suitable for liquid water or complex life."